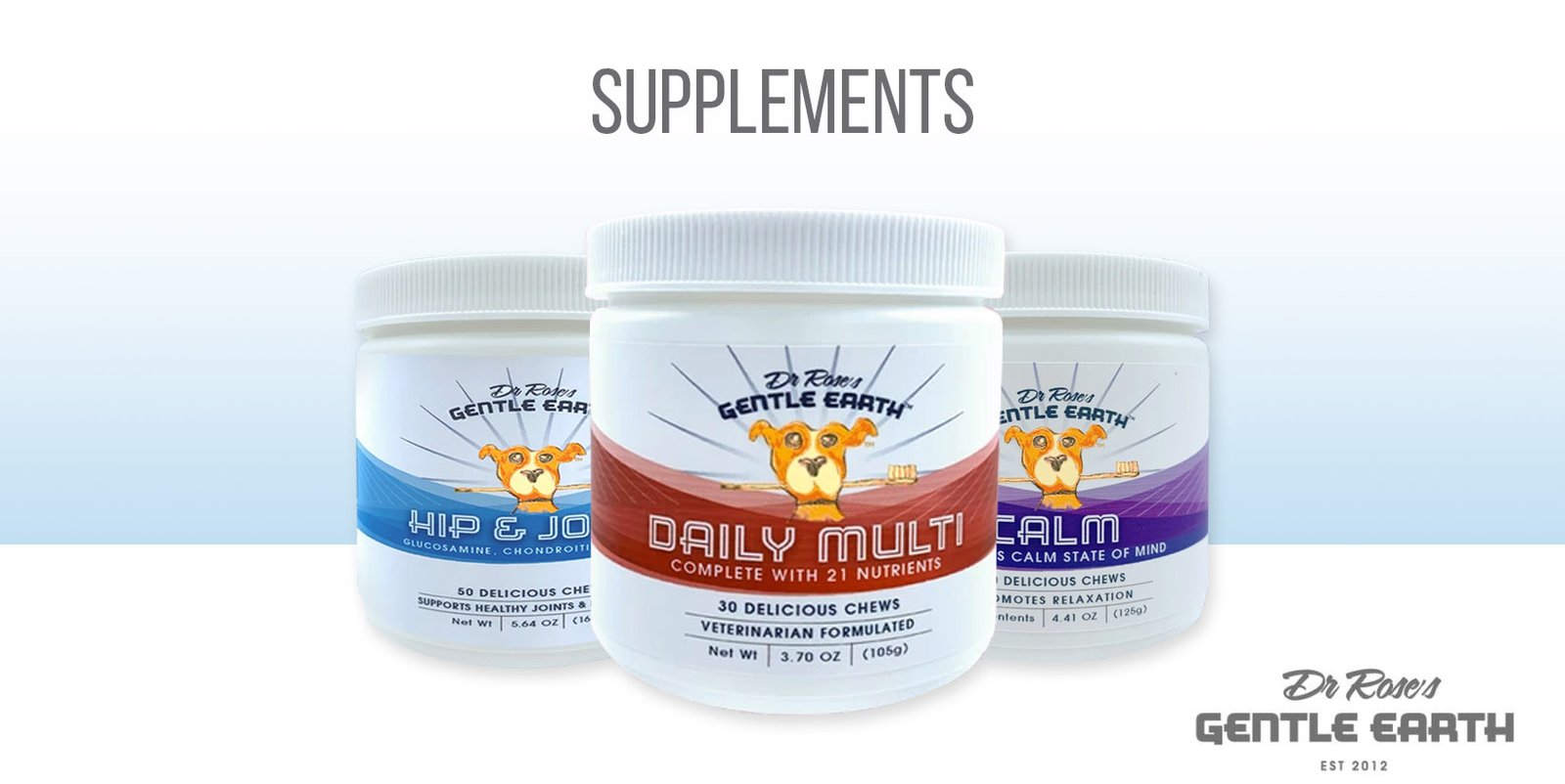 Dr. Rose has formulated supplements for dogs that address a variety of issues concerning the health of your pets.
Like humans, dogs need vitamins and organic compounds that are essential for a healthy, balanced diet. Sometimes, our dogs don't get enough essential vitamins in their diets, so adding in supplements to their normal eating routine can be extremely beneficial for their long term health. This is where Dr. Rose's Daily Multivitamin comes in. Extra vitamins will help keep your pet's immune system healthy and strong.
For dogs in their later years, hip and joint supplements can alleviate pain associated with joint integrity and arthritis. These supplements protect cartilage essential for healthy and pain-free joint function. Dr. Roses's joint supplements are a tasty and palatable treat for your dog.
Dr. Rose also offers a calming treat that supports a calm state of mind in dogs. If your dog needs extra help reducing anxiety due to thunderstorms, trips in the car, teeth brushing, or anything else that provokes anxiety, this calming treat will help soothe your pup's mind.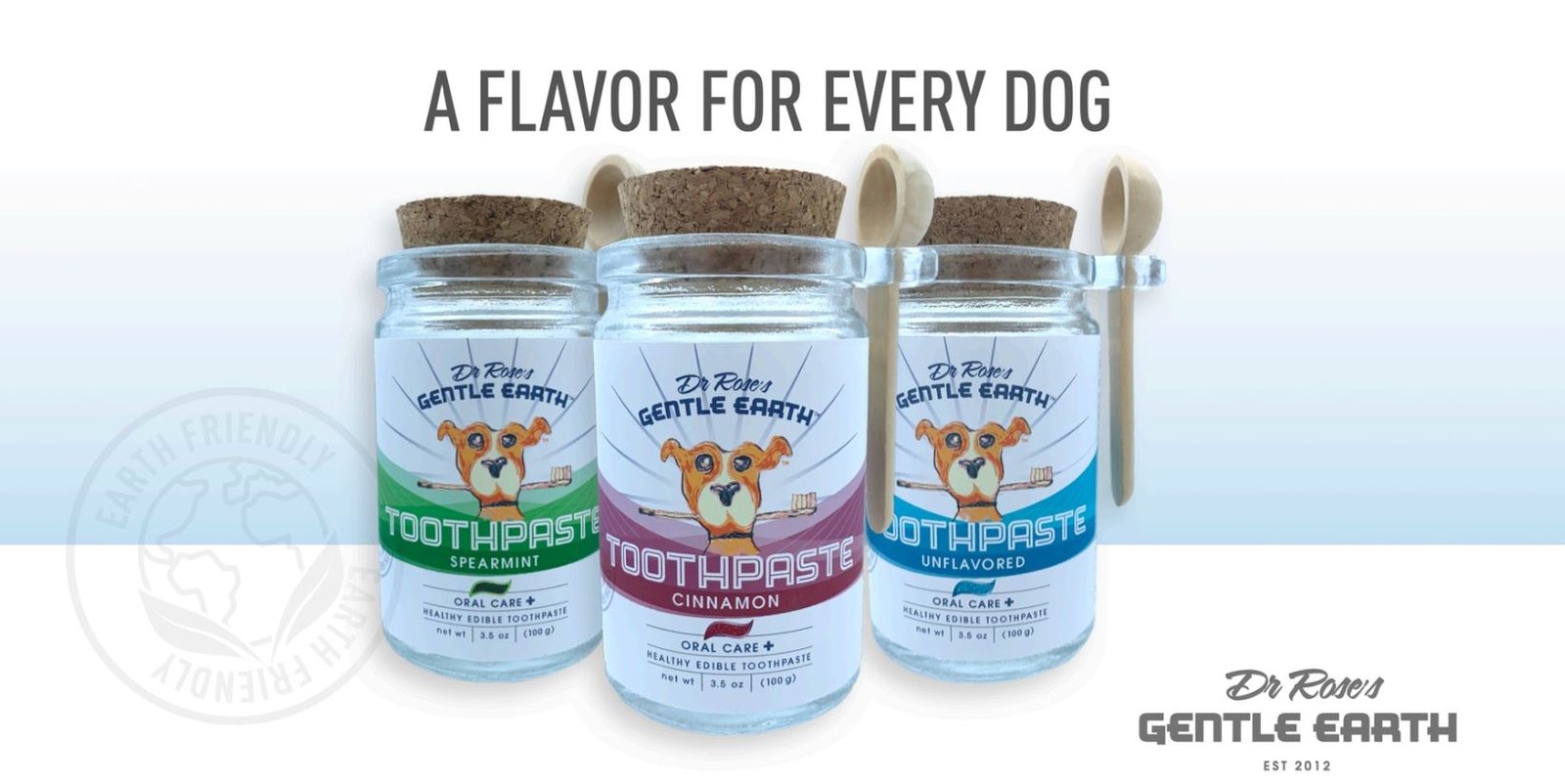 Dr Rose has formulated a toothpaste for dogs that will keep your pets pearly whites clean and fresh. This toothpaste is made from all-natural and organic products. It is in a jar to preserve its integrity as it will absorb the plastic toxins in a plastic tube.
The paste will draw out the water from the tartar and it will just crumble off. It is best used immediately after a dental cleaning 3 times a week to maintain healthy gums and teeth. However, this is not always possible due to compromised health conditions. A professional dental cleaning is great and enables the hygienist to clean under the gums. When a professional cleaning is not possible you can brush with Dr Rose's Toothpaste. Just follow the instructions and in 1 month the red gums will be pinker and the tartar will begin to crumble off the teeth.
Using the toothpaste is quick and easy:
Be sure to withhold food and water for 15 minutes before and after the application. Apply a generous amount to the teeth, no need to brush. Let the paste remain on the tooth as long as possible. For best results apply initially 2 times a day for 2 weeks, then once a day for 1 week, as the teeth improve you can reduce the applications to 3 or 4 times a week. It is important to keep the top on the jar, as the paste will dry out when let to stand in the air uncovered.
Dr Rose's Gentle Earth Toothpaste will remain active for over 1 year. Try to use the wooden spoon provided to keep the contents fresh, as there is only a small amount of natural active preservatives.
Dr Rose's toothpaste is available at the Colts Neck Animal Clinic in Colts Neck, NJ.
Price: $24.95 per jar (3.5 oz) plus shipping.
Shipping is up to  $15 for packing and postage.